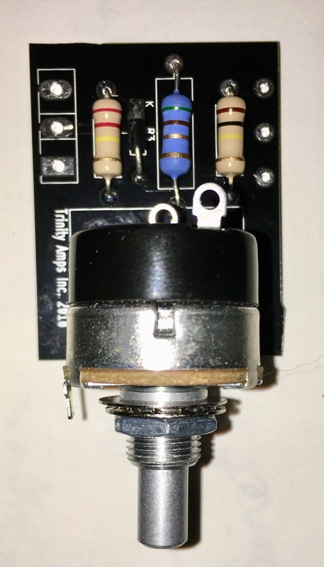 Voltage Regulation Module (VRM) – taking orders / shipping in January 2023
Details
The VRM (Voltage Regulation Module) – is designed to control the power level of your Cathode Biased amp while retaining the tone. The 1″ sq. board should fit anywhere in your Trinity Amp with three simple connections. Replace the power switch in your amp using the "switched" control pot.
Kit includes all parts, PCB, hardware, switched control pot and 2 DC blocking caps.
Reviews
G. Floyd, Chief Instructor, The London College of Contemporary Music, London, ON, Canada – Your VRM kit worked perfectly!

It controls the power of the amp exactly as your website claimed and how I had hoped it would. Using the VRM to bring down the power of the amp lets me get some nice chewy overdrive or cranked British tones at reasonable volume levels. Love it!
I would definitely recommend the VRM to anyone looking to tame their tube amp, or perhaps just make it more versatile.
Steve in Vancouver

Before purchasing, I compared your VRM to a competitor's more costly one. I purchased your VRM kit, assembled it, installed it in my Champ clone. It works excellently. I can get a nice little growl happening without annoying the neighbours. Thanks
Pricing Options
Canadian Customers Click 'Inquire' to receive up-to-date CAD pricing and shipping. Include postal code for quote.
$ CAD
We price affordably while managing fluctuating exchange rates with our suppliers. Our CAD best price guarantee accurately reflects our costs.
VRM (Voltage Regulation Module)
$56 USD
Voltage Regulation Module
Add to Cart
To Purchase Items
Select an item using the drop down menu.
Add the item to your shopping cart using the Add to Cart button.This will take you to your shopping cart.
If you wish to purchase additional items, e.g. a transformer set, click Continue Shopping. This will return you to the Trinity Amps site.
Select the next item you wish to purchase using the drop down menu and repeat from Step #2.
When you are finished shopping, wish to check and are viewing your shopping cart, click either PayPal Check out or Check Out (Pay without a PayPal account).
To view your shopping cart click View Cart on the Trinity Amps site and then check out using one of the aforementioned process.
Be sure to include your phone number with your order.
Shipping outside of North America will be adjusted and an email sent with details.
Inquire
Payment Information
Payments can be made through PayPal to sales@trinityamps.com. Payments can also be made using Interac e-Transfer, money order, cashier's or personal check to Trinity Amps Inc.
We accept Canadian credit cards at our shop or by phone.
If you are located outside of Canada and want to make a payment using a VISA or Mastercard, an invoice will be provided using PayPal's credit card service. No PayPal account is required.
Please be sure to send your full shipping address and contact phone number when ordering. If you have any questions, please contact us for more information, visit our web site or forum.
All prices are listed in US dollars. Orders ship from Brighton, Ontario, Canada, applicable taxes not included. Specifications and prices subject to change without notice.
Trinity Amps Inc.
+1-613-438-5854 Canada EST
14656 County Rd. 21
Brighton, ON
Canada
K0K 1H0