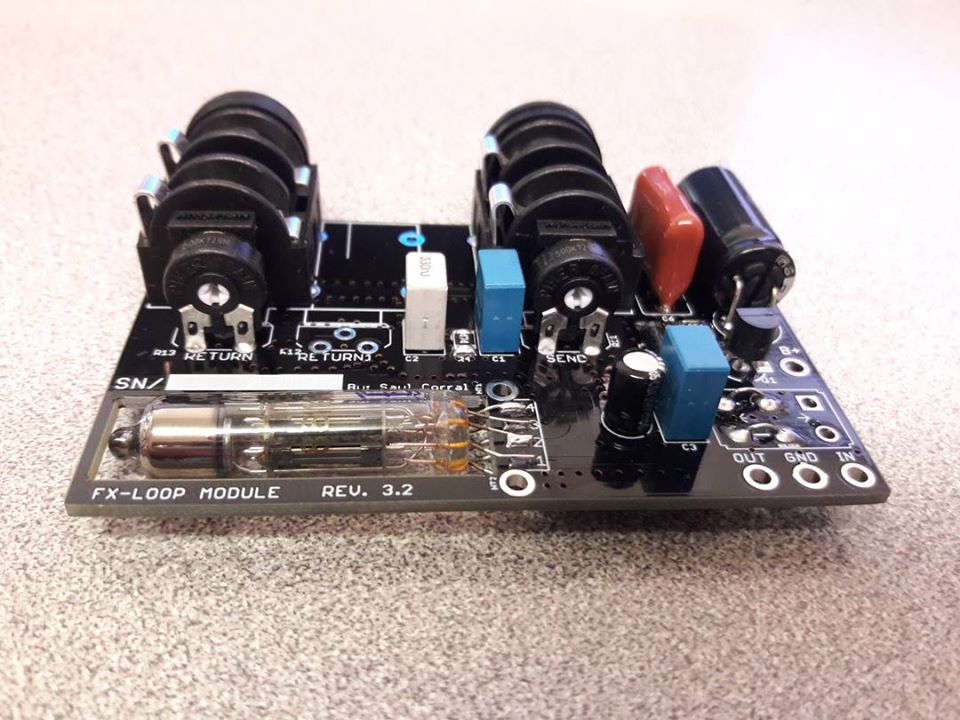 Tube Effects Loop
Details
This series Fx Loop utilizes a 6N17B sub-miniature military-grade, dual-triode vacuum tube. It employs high voltage, has zero-loss, is built on a PCB and includes an optional true-bypass switch.
This all tube FX loop add-on module can be fitted to virtually any guitar tube amplifier.
The FX loop is optimized for insertion between preamp and driver stages, the low noise, non-clipping, analog effects loop utilizes a 6N17B sub-miniature dual-triode vacuum tube. It is designed with a cathode-follower send stage and a return gain stage both of which can be adjusted. The mounting requirements are simple (Power, Ground, Signal In, Signal Out, 2 heater wires) and it is held in place by chassis mounting the ¼" jacks.
Power drain on the B+ is minimal as the unit features a voltage regulator to minimize noise and simplify installation. This eliminated the need for a voltage dropping resistor. Similarly, heater current draw is minimal. The 2 internal trim (level) pots that can be accessed directly through the jacks (no chassis removal) or internally by using a small flat-bladed screwdriver.
The PCB footprint is small (3 holes), yet both the send and return levels, spaced at 1.5″, can be adjusted for nearly any loop requirement. Low cost stomp boxes and pedals work just as well as thousand-dollar rackmount effect units.
The Send is configured as non-interrupt, so it can be used as a Preamp/Slave Line Out. When no connection is made, the unit accurately passes signal but there is also an optional panel mounted true bypass switch.
This FX loop kit makes inserting any effect or pedal, less intrusive to the tone of your amp.
Kit includes all cables and wires plus detailed instructions and also detailed layouts for Trinity Amps products.
Pricing Options
Canadian Customers Click 'Inquire' to receive up-to-date CAD pricing and shipping. Include postal code for quote.
$ CAD
We price affordably while managing fluctuating exchange rates with our suppliers. Our CAD best price guarantee accurately reflects our costs.
Tube Fx kit
$90 USD
Tube Fx Loop with 6N17B sub-miniature, dual-triode vacuum tube.
Add to Cart
To Purchase Items
Select an item using the drop down menu.
Add the item to your shopping cart using the Add to Cart button.This will take you to your shopping cart.
If you wish to purchase additional items, e.g. a transformer set, click Continue Shopping. This will return you to the Trinity Amps site.
Select the next item you wish to purchase using the drop down menu and repeat from Step #2.
When you are finished shopping, wish to check and are viewing your shopping cart, click either PayPal Check out or Check Out (Pay without a PayPal account).
To view your shopping cart click View Cart on the Trinity Amps site and then check out using one of the aforementioned process.
Be sure to include your phone number with your order.
Shipping outside of North America will be adjusted and an email sent with details.
Inquire
Payment Information
Payments can be made through PayPal to sales@trinityamps.com. Payments can also be made using Interac e-Transfer, money order, cashier's or personal check to Trinity Amps Inc.
We accept Canadian credit cards at our shop or by phone.
If you are located outside of Canada and want to make a payment using a VISA or Mastercard, an invoice will be provided using PayPal's credit card service. No PayPal account is required.
Please be sure to send your full shipping address and contact phone number when ordering. If you have any questions, please contact us for more information, visit our web site or forum.
All prices are listed in US dollars. Orders ship from Brighton, Ontario, Canada, applicable taxes not included. Specifications and prices subject to change without notice.
Trinity Amps Inc.
+1-613-438-5854 Canada EST
14656 County Rd. 21
Brighton, ON
Canada
K0K 1H0