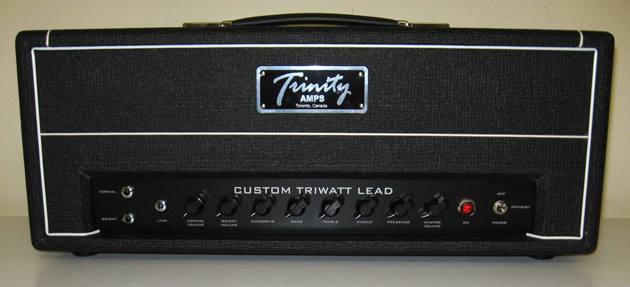 Trinity Triwatt Amp – Sold Out
Details
Trinity Amps offers a new amp based on the classic design originally pioneered by HIWATT. The TRIWATT has a preamp inspired by the early "4 Hole" amps, and by Pink Floyd legend, David Gilmour's "3 Hole" version which had two bright channels inputs and a third linking the two. The TRIWATT has that classic HIWATT sound, reminicient of Pete Townsend and David Gilmour.
Key points about the Design:
Big Hiwatt DR clean tones and breakup at more ear-friendly levels
Vintage style early '70s 103 preamp (with cathode-follower)
Three-inputs – Normal, Bright and Link, like Dave Gilmour's 3-input amps
Switchable 80s' "Biacrown era" high-gain OL/Lead mode, with Overdrive control
Early Hiwatt style 12AT7 phase invertor, with 12AX7 option for increased drive
Solid State rectified, fixed-bias, 22 Watt 6V6 power stage, based closely on Hiwatt original
Switchable 6V6 or KT66 operation with External Bias Control and Test Points
Transformers closely based on original Hiwatt Partridge transformers for definitive tone.
Compact physical format and cabinet
The amplifier is a dual channel design and straight-forward amplifier with a built in "channel jumping" Link input. It has an all-tube signal path design with a solid-state rectifier. Fixed bias operation is utilized for the output stage. This amp uses a pair of 6V6's in a push-pull configuration using "negative feedback".
I just want to let you know I absolutely love my new Triwatt. What an amp! It is in a class by itself and really shines with the Weber Fane Crescendo clone speaker. I prefer KT66s as they impart a sort of "multi- dimensional" quality to the notes - a much rounder and well defined low end and sweet no shrill highs. A great choice in your circuit.
The dual channel preamp with its variety of tone controls is coupled to a 6V6 or KT-66 capable power section. The tone controls allow the player to attain an excellent array of complex tones. If you're looking for classic mid 70's HIWATT sound at more ear friendly volumes, then this is the amp for you!
Features
The TRIWATT was designed by Trinity Amps to capture the classic HIWATT sound without the usual classic ear-bleeding volume levels. It is closely based on an early '70s style HIWATT DR, but utilizing either 6V6 or KT66 power tubes for more usable power output. Furthermore, it has the 3-input configuration used by David Gilmour of Pink Floyd, plus an Overdrive stage, as found in early '80's "Biacrown era" HIWATT Lead amps.
Bright channel – perfect right out of the gate. The entire travel of gain knob yields usable tones. Bright is AMAZING from zero to dimed, with lots of subtle colours in between. This channel really cuts through the mix.
Normal channel – has usable gain from the bottom all the way to the top, and lots of subtle shades of clean and semi-clean from around 10 o'clock to 3 o'clock. This channel is important because it's where most people will probably spend most of their time. The tone, is big and more detailed.
Link – is like jumping the two channels on a 4-holer. There are infinite shades of tone possible by blending the two channels' volume controls. The actual "sound" of the link inputs is subtly more scooped-mid and sparkly, giving one set of knob settings two slightly different tones.
Tone Controls – Treble, Middle, Bass, Presence – these are less like "boost/cut" knobs and more like "real" tone controls. They do a lot to the tone in a very subtle way. With Fenders/Marshalls extreme settings can get painful. TRIWATT never gets painful. Presence in particular is very authentic – rather than boosting a high treble, it opens up or extends the top end of the tone to add "air" to the sound. TRIWATT EQ knobs are in very similar places when compared to original HIWATT amps, dialed in to similar tones.
Master Volume – turning the master down isn't a tone killer like in some amps. The tone is not compromised when the master is under around 11 o'clock. IF you set the OD up appropriately (see below), even with the MV way down – 7 or 8 o' clock, it still sounds huge. This control sounds big, quiet, and it it sounds big loud!
Overdrive – This control may be the reason someone who owns arguably a Hylight-era HIWATT 4-holer, would want the TRIWATT. This is where the TRIWATT "art" lives – a . Pull out the Overdrive control and you get the extra gain stage of a Biacrown era HIWATT Lead amp (push the knob in and it's out of the circuit). This gain stage naturally gives you more gain and more distortion, as well as more compression. So, for rhythms as well as leads, it's incredible! If you have to play lead, bring up the bright/normal gain stage and starve the overdrive gain and the tone comes forward is more dynamic and bigger. Turning up the Overdrive, with an LP and humbuckers reveals big metal tones, yet rolling back the guitar volume and playing more gently yields delicate, transparent, sparkling cleans with the Overdrive still on. And you can imagine all the shades in between!!!
Guitars – The TRIWATT can handle many guitars with aplomb. Tele, Strat, Danos, Ric, Les Paul with P90's for the single coils, and Les Paul, SG, Seymour Duncan hot-rodded Fender Cyclone for 'buckers, PRS Mira in both 'bucker and single mode – have all been tested with this amp, and every guitar sounds GREAT. Also, HIWATTs are known for taking a lot of pedals really well. The TRIWATT does not disappoint in this area either.
Reviews
TRIWATT Impressions –  Jeremy Clayton Taft
Early on, I realized I was not going to have Danny Gatton plug 'n play chops, so I decided to spend the next 20 or so years investing in and exploring the more sonic realms of what my guitar and I can produce. Having numerous sound shaping tools between my guitars and my amps is great for me; but it does come with its' challenges. The Triwatt seems to address everything an amp can address given my set up. It exceeded my already high expectations and lives up to its' claim as an amp modeled after one of the great effects friendly units, ever.
The beauty of what you have crafted is almost what it doesn't do vs. what it does. That is supposed to be a compliment, so allow me to explain:
a) It's a straight up, quiet amp when it is idling. Does not add any unwanted hum or noise, even with 52 year old single coil, soap bar pickups.
b) It doesn't waste any of its' well-crafted resources on unusable high-end sparkle, or low end muddy business.
I have always found 6V6's amazing for mid-range punch. That being said, even the nicest Fender Deluxe I have ever owned required an EQ in the effects chain to boost those 500Hz to 1.5KHz frequencies to where I wanted for lead parts. While I was using the Triwatt, I was able to take the EQ pedal right out of the loop. One pedal down 17 to go……
I really love the natural growl in the link channel. Bright and Normal working in harmony not trying to outdo one another. Generally, I leave a TS-808 on all the time at minimum drive to achieve that tone. Two pedals down….Merci.
The Triwatt does what it supposed to do: amplify sound/make beautiful noise louder. A lot of boutique companies have forgotten that THAT is simply what a lot of people want in an amp. A good amp is warm and modest. It should not take over the players tone and make it its' own, you know? The Triwatt seems to get that in spades: and in all 3 (very different) channels.
The Triwatt passed "The End of the World" test: Fuzz Factory (dialed in) + Whammy 2 Octaves Down. That made me VERY happy.
I could go on for hours I was so thrilled with your product. Great sounding, great looking amp that can handle the kitchen sink. Dreaming of trying your combos!
Please find below a description of what I put the Triwatt through.
'80 Ibanez AS-80 and '62 Fender Jazzmaster -> Boss TU-2 tuner -> Bad Horsey Wah -> Analogman Dyna Ross -> TS-808 (x2) -> Proco Rat -> ZVEX Fuzz Factory -> ZVEX Box of Rock -> EQ -> Digitech Whammy -> Pog 2 -> Mini DejaVibe -> Boss Tremolo -> Ernie Ball Volume -> DL4 -> TREX Replica -> Holy Grail Reverb -> Kaoss pad -> Triwatt -> Egnator Tourmaster 2×12
Specifications
Channels: 2: Bright; Normal
Controls Ch.1: Normal Volume
Controls Ch.2: Bright Volume
Shared Controls: Overdrive level/Pull On; Bass; Middle; Treble; Master Volume
Power output: 22 Watts 6L6 / 33 Watts KT66
Preamp Tubes: 1-12AT7, 3-12AX7
Power Tubes: 2 – 6V6; Optional KT66
Rectifier: Solide state diode
Bias: Fixed
Choke: no
Speaker: per customer choice
Outputs: 2
Speaker Output: 4, 8, 16 switched
Voltage Support: 115 V 60Hz – 240 V 50Hz
Weight: Head: 25 lbs., 112 Combo 60 lbs.
Switches: High Voltage selector for KT66
Dimensions: Head: 8" H x 22" W x 8" D
Options included:
Piping: white, silver or gold piping
Tolex: Vox/Hiwatt black; black Mesa wrinkle, black, green, red, purple levant or black elephant
Grill Cloth: grey weave, Marshall black or salt & pepper, Fender silver, Ampeg blue SVT
Handle: strap style or comfortable leather "dog-bone" style
Knobs: choice of black or white "chicken head" style
Other Tolex, grill cloths and hardware are available and priced upon request.
Audio Samples
Strat Diddy, Bright Channel, l, 4-12 with G12-65

64 Gretsch Nashville, Clean, Bright Channel, l, 4-12 with G12-65

64 Gretsch Nashville, Dirty, Bright Channel, l, 4-12 with G12-65

Les Paul Custom, Dirty, Bright Channel, l, 4-12 with G12-65

Les Paul Custom, Drop D, Bright Channel, l, 4-12 with G12-65

JV 62 RI Strat, l, 4-12 with G12-65Clean, Bright Channel, 4-12 with vintage G12-65s

JV 62 RI Strat, l, 4-12 with G12-65 Clean, Normal Channel, 4-12 with vintage G12-65s

JV 62 RI Strat, Dirty, Bright Channel, 4-12 with vintage G12-65s

Shadows "The Stranger", Adam Hen, Strat on Bridge, Delay, Linked Channels, Triwatt 2-12 with Weber Thames
Video Samples
Trinity Triwatt Demo
Feelin' It
Pricing Options
Canadian Customers
$ CAD
Click the 'Inquire' below to receive up-to-date Canadian Dollar pricing and shipping.
Trinity Triwatt Head 22 watts 6V6 Power Tubes
$1,675 USD
Trinity Triwatt Head 33 watts KT66 Power Tubes
$1,775 USD
Footswitched Boost
$100 USD
Inquire
Payment Information
Payments can be made through PayPal to sales@trinityamps.com. Payments can also be made using Interac e-Transfer, money order, cashier's or personal check to Trinity Amps Inc.
We accept Canadian credit cards at our shop or by phone.
If you are located outside of Canada and want to make a payment using a VISA or Mastercard, an invoice will be provided using PayPal's credit card service. No PayPal account is required.
Please be sure to send your full shipping address and contact phone number when ordering. If you have any questions, please contact us for more information, visit our web site or forum.
All prices are listed in US dollars. Orders ship from Brighton, Ontario, Canada, applicable taxes not included. Specifications and prices subject to change without notice.
Trinity Amps Inc.
165 Kanata Dr.
Grafton, ON
Canada
K0K 2G0
+1-905-373-6571 Canada, EST
Links