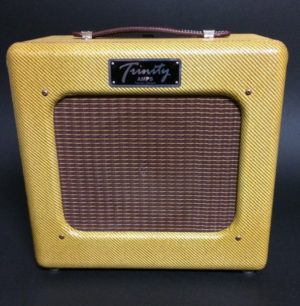 Trinity Triton Amp – Sold Out
Details
This sweet little 5 watt amp is based on the earliest 50s Fender Champs and Gibsons and produces a warm, growly
Chicago Blues tone in a grab-and-go package. The design incorporates a Tone Control which can be bypassed as desired so it is perfect for small gigs and recording. With the 6L6 switched in, it can easily handle larger venues.
It is Excellent with Guitars and Harps alike and takes pedals well. It goes from sparkling clean to brown and creamy distortion. Incredible sensitivity to attack, very nice distortion when you turn it up or use the Hi input jack. It may be a little cleaner sounding than the later, 12AX7 based Champs but with the 6L6 option that the originals didn't offer, it can seriously bark in the larger venues!
For Harp players, Harpdog Brown played several  Harps, live, through it and said it was incredible! Very beefy, noticeably better than some other amps he's played. It is his go-to amp now!
Thank you and the rest of the team there at Trinity! Well done.
After playing harp through the Trinity I realize this is going to change my playing style and with almost 50 years of harp playing that was no small feat.
Overall, an excellent harp amp and a great blues guitar amp. Chicago Blues and  classic rock (e.g. Neil Young or Stones) are well within the realm of possibility.
"Triton, the son or Poseidon, special attribute was a twisted conch shell, on which he blew like a trumpet to calm or raise the waves. Its sound was such a cacophony, that when loudly blown, it put the giants to flight, who imagined it to be the roar of a dark wild beast."
Triton is a good name for this little amp!
Features
True to the era, all octal tubes were used in this Single Channel amp. The circuit is extraordinarily simple, using one New Old Stock (NOS) 6SJ7 pentode in the preamplifier section to provide a single stage of voltage amplification, one 6V6 beam power pentode in the power amplifier section, a 5Y3 tube rectifier tube and a single volume knob with a by-passable tone control for those who want the raw energy.
We added a bias switch so players can use a 6L6 and also a 4/8 ohm output switch used with our custom made Heyboer output transformer.
It comes housed in an Old-School 40s-50s TV front style lacquered Tweed covered cabinet and uses an 8″ Tone Tubby AlNiCo hemp cone speaker.
Reviews
The amp arrived safe and sound today.
I just plugged in the Green Bullet mic and tried out all the harps and I have to say WOW! What a fine amp! Just excellent.
Thank you and the rest of the team there at Trinity! Well done.
Also, after playing harp through the Trinity I realize this is going to change my playing style and with almost 50 years of harp playing that was no small feat.
Again, thank you so much!
John Anderson, WA, USA
Specifications
Channels: 1
Controls Ch.1: Volume, Tone (pull to bypass)
Power output: 5 Watts 6V6; 10 Watts 6L6
Preamp Tubes: 1 – New Old Stock 6SJ7
Power Tubes: 1 – 6V6 Class A (6L6 Optional)
Rectifier: 1 – 5Y3
Bias: Cathode. Switchable 6V6 or 6L6
Choke: no
Speaker: 8 inch Tone Tubby Humboldt Alnico
Outputs: 2
Speaker Output: 4, 8 switched (16 on request)
Voltage Support: 115 V 60Hz – 240 V 50Hz
Weight: 112 Combo 15 lbs.
Dimensions: 18 Combo: 13" H x 14" W x 8.5" D
Audio Samples
Harpdog Brown - Buzzard Luck - Buzzard Luck - Bb Marine Band

Harpdog Brown - Blue Light Boogie - C Chromonica 64

Harpdog Brown - Back track harp only - G Marine Band

Harpdog Brown - Walkin' Blues - backing track/solo

Jason Fryer - Tone King Records - Deep Blue Sea - Guitar lead

Lyle Odjick - Tone King Records - Harpin' & Howlin'
Pricing Options
Canadian Customers
$ CAD
Click the 'Inquire' below to receive up-to-date Canadian Dollar pricing and shipping.
Triton with 8" Tone Tubby Speaker
$1,120 USD
Triton with no speaker
$1,000 USD
Inquire
Payment Information
Payments can be made through PayPal to sales@trinityamps.com. Payments can also be made using Interac e-Transfer, money order, cashier's or personal check to Trinity Amps Inc.
We accept Canadian credit cards at our shop or by phone.
If you are located outside of Canada and want to make a payment using a VISA or Mastercard, an invoice will be provided using PayPal's credit card service. No PayPal account is required.
Please be sure to send your full shipping address and contact phone number when ordering. If you have any questions, please contact us for more information, visit our web site or forum.
All prices are listed in US dollars. Orders ship from Brighton, Ontario, Canada, applicable taxes not included. Specifications and prices subject to change without notice.
Trinity Amps Inc.
+1-613-438-5854 Canada EST
14656 County Rd. 21
Brighton, ON
Canada
K0K 1H0