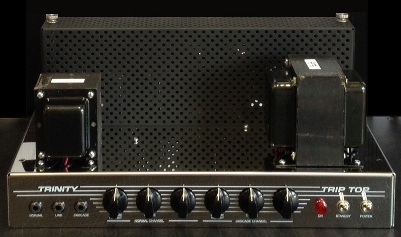 Trinity Trip Top Amp
Details
Based on several years of vintage Ampeg B15 designs, the Trip Top uniquely combines the original circuits of both the Ampeg B-15NC (1964) as well as the later B-15NF (1965-67). The B-15-NF channel has the volume control section before the tone stack and in the B-15-NC channel it is after. Maintaining these circuits keeps the same gain structure and biasing found in the original B-15N amp designs, helping to preserve their true heritage. It also has two power supply settings – Cathode and Fixed bias to provide further tone structure.
This might be the best sounding amp I've ever played through.
But calling it a bass amp is missing half the point. It's an AMAZING guitar amp. It has a different sonority than other Trinity offerings which have a focus on a very smooth but sparkly top end. The Trip Top is the opposite – there's still a nice smooth top end -and plenty of it – but this amp is all about low end girth and grind. It's got a nice big tight booty (even with the bass tone knob on full!) that inspires rocking out down low on the neck with open chords!! Fixed bias has a more forward, clear, present sound… Cathode bias gives it a saggier feel but adds this gorgeous rich high harmonic overtone to everything – really nice for those ringy single coil U2-esque type sounds.
Features
The Trip Top is designed to output approximately 30 watts in cathode bias mode and 40 watts in fixed bias mode using 6L6 power tubes. These two modes are switch selectable.
It has two channels each have Volume with a 'Pull Bright' switch, Treble and Bass controls. The first channel, NORMAL, from the B-15-NF, has the volume control section before the tone stack. The second channel, CASCADE, comes from the B-15-NC which has the volume control section after the tone controls. There is a third input that LINKS the two channels for additional grit and drive.
The power amp section has two switch selectable bias modes – fixed (B-15NF) and cathode (B-15NC). Solid state rectifier diodes were used for the "NB" configuration, but not incorporated into our design (easy mod).
The Output Transformer has multiple impedance secondaries which allow a choice of 4, 8 or 16 ohm speaker loads. The primary output impedance is 6800 ohms.
The Trip Top is built using point-to-point wiring utilizing turret board construction for optimal service and reliability. High-quality tubes, coupling capacitors and resistors are selected for maximum tone, performance and reliability. The Trinity Amps power transformer and output transformer are all custom built, over-rated and selected for maximum tone, performance and reliability
Specifications
Channels: 2
Controls Normal: Volume/Bright; Treble; Bass
Controls Cascade: Volume/Bright; Treble; Bass
Power output: 25-30 watts in cathode bias mode and 35-40 watts in fixed bias mode
Preamp Tubes: 3 – 6SL7-GT Pre-Amp tube design
Power Tubes: 2 – 6L6
Rectifier: 5AR4
Bias: Fixed or Cathode (selectable)
Choke: no
Speaker: no
Outputs: 2
Speaker Output: 4, 8, 16 switched Overspec'd Heyboer Output Transformer to support KT88 Output power level
Voltage Support: 110 V 60Hz to 240 V 50Hz Overspec'd Heyboer Power Transformer with 110/120/220/230/240 @ 50/60 Hz Mains
Weight: Head: 30 lbs., 115 Combo 80 lbs.
Switches: Cathode / Fixed bias; Hum Control; Bias Setting
Other: Pre-amp Out
Construction: Mirror Finish Stainless Steel .06 inch thick Chassis with silkscreened front /rear labels 8.5″ X 17″ X 2.5″; CNC fabricated Black Powder Coated Tube Cage
Dimensions: Head: 8" H x 17" W x 10" D
Audio Samples
Heartbeat

Lovers

Moved So Slow

Old and Able One

Old and Able Two
Pricing Options
Canadian Customers
$ CAD
Click the 'Inquire' below to receive up-to-date Canadian Dollar pricing and shipping.
Trinity Trip Top with Tube Cage *No Cabinet
$2,100 USD
Trinity Trip Top Portaflex 15" Bass Speaker Cabinet
$750 USD
KT88 Tube Option
$100 USD
Inquire
Payment Information
Payments can be made through PayPal to sales@trinityamps.com. Payments can also be made using Interac e-Transfer, money order, cashier's or personal check to Trinity Amps Inc.
We accept Canadian credit cards at our shop or by phone.
If you are located outside of Canada and want to make a payment using a VISA or Mastercard, an invoice will be provided using PayPal's credit card service. No PayPal account is required.
Please be sure to send your full shipping address and contact phone number when ordering. If you have any questions, please contact us for more information, visit our web site or forum.
All prices are listed in US dollars. Orders ship from Brighton, Ontario, Canada, applicable taxes not included. Specifications and prices subject to change without notice.
Trinity Amps Inc.
165 Kanata Dr.
Grafton, ON
Canada
K0K 2G0
+1-905-373-6571 Canada, EST
Links