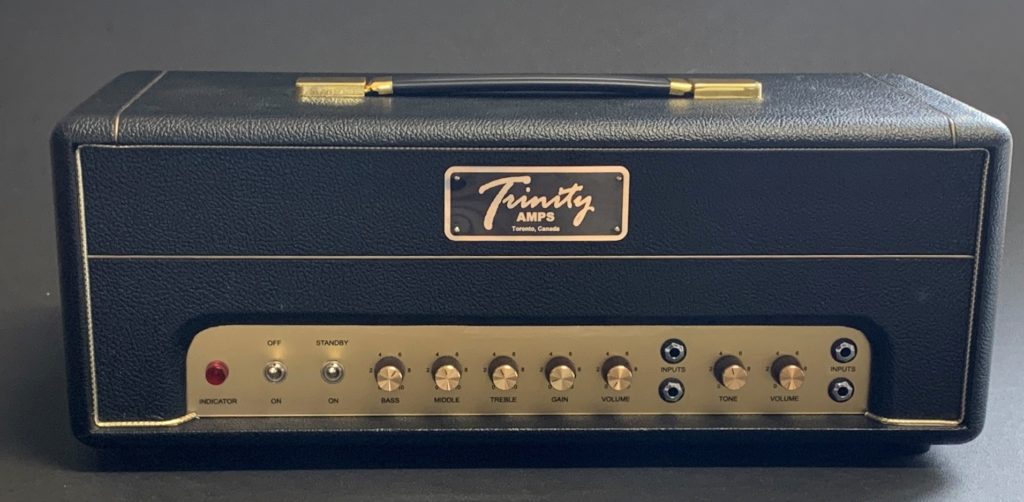 Trinity 18 Amp – Sold Out
Details
These amps sound and feel like bona fide Marshalls, albeit quieter, with a design "borrowed" from the early Watkins Dominator circuit. The truly exhibit the much sought after, famous Marshall crunch. Marshall 18 Watt amps were built between 1966 and 1968, or so, and only a few hundred were made.
The two-channel amplifier does away with negative feedback, allowing the amplifier to run "open loop" or wide band. This is why the 18 Watt sounds full and rich at low or high volume levels. These 'features of design' are very much a part of the distinctive tone.
I have to tell you: it sounds so amazingly incredibly fricken good. It's so much better than what I ever imagined it to be, it's response is fast and tight covering all frequencies - top frequencies are cutting their way through the air, with a lot of edge and it does NOT sound thin and disgusting. Mid-frequencies are in- your-face punchy, and the bottom end is so tight and clear. There are so many natural harmonics in this amp, I don't even know where to start.
We have added to the tonal variety of the original by hand-building four 18 watt Marshall type amps to cover almost all of the Marshall era vintage tones. The sIII, Custom Plexi, Plexi MkII and TMB. We can mix and match channel voicing, for example Plexi TMB channel with sIII Normal channel. We can even customize the amp to run 6V6 power tubes or make the power tubes switchable.
sIII
The two channel Trinity 18 sIII incorporates a gain control but gain is not too high affording some additional headroom. The sIII is voiced to sound like a vintage Marshall JTM-45 Bluesbreaker style. Channel 1 is the same design as the original Marshall 18 Watt Tremolo channel. Channels can be jumped for even more complex sounds. This amp is great for reproducing the tones of the early Marshall years.
Custom Plexi
The Marshall 1959 Super Lead was made famous by: Townsend, Clapton, Hendrix, Young, Van Halen, Page, Gibbons and more. Want to crank it up and Rock and Roll to some Classic, vintage Marshall? The Trinity Amps Custom Plexi is authentic to the Marshall Super Lead Plexi and it does sound excellent. It has the Classic Marshall tone and crunch in a usable 18 watt package.
12AX7 preamps, TMB tone stack and Phase Inverter are identically voiced to the Plexi Super Lead.
1 Watt Carbon Film resistors are used throughout the sound chain to minimize noise.
The amp does not need to use negative feedback.
Running at 390V, with an octal socket based solid state rectifier, the power section is powered by two cathode biased JJ 6V6Ss. The original was fixed bias but because the Trinity Amps Custom Plexi is cathode biased, the rectifier can be swapped out for a 5AR4 for lower voltage to 'brown' out the sound and give it a more compressed feel.
The fat switch fattens it up the TMB channel and increases the sound spectrum.
Get the Classic Marshall tone you've heard a million times!
Plexi Mk II
The Plexi Mk II design uses selected "Brown" components that gets you very close to Eddie van Halen sound. Hot licks but with a very surprising clean tone with gain turned down. This baby can move some real air moving! Crank up that normal channel and it really gives up the goods! Lot's of crunchy to high gain AC/DC tones for days. The Plexi TMB side cranked up is equally great going from clean to mean. Leave the gain low and crank the master and there is quite a lot of headroom with big fat cleans. The fat switch fattens it up the TMB channel and just makes it a bit fuller spectrum of sound.
Check out the Plexi Mk II Clip by Les Wilkins.
TMB
The Trinity 18 TMB is a dual channel amp with Channel 1 – Tone and Volume, 2 inputs and Channel 2 – Treble, Midrange, Bass, Volume and Gain, 2 inputs. The tone controls are of standard Marshall "Tone Stack" design. The TMB channel incorporates a gain control and is a higher gain design similar to the Marshall 2203 of the late 70s. The master volume allows the player to selectively dial in overdrive distortion for that 'crunchy', hot Marshall sound.
Thör
The Trinity Amps Thör is a 6V6 powered amp authentic to the Marshall JCM800 2203 Lead Series Master Volume amp, based on original work by RobRobinette.com and it totally delivers. In addition to the Lo Sensitivity input, Thör employs a cascaded Hi Sensitivity channel. With a pre-phase inverter master volume and a cold biased "cold clipper" gain stage and the circuit tweaked to deliver an aggressive but sweet overdrive tone, Thör has the quintessential Marshall tone and crunch but in a very usable 20 watt package. The Preamp, tone stack and Phase Inverter are identically voiced to the JCM800 2203. There is some frequency compensation employed to retain the 2203 circuit and smooth it out.
Running an octal socket based solid state rectifier with choke, the 400V fixed-bias supply powers two JJ 6V6Ss. There is an added Clipper switch to select either JCM cold clipper or the SLO cold clipper. The gold, brushed aluminum look front panel is intentionally reminiscent of the original JCM800s. Available as a Head or Combo.
Get the Classic Marshall tone you've heard over a zillion times! Be sure to watch the videos below.
Thor is the god of thunder, lightning, storms and strength. A classic name for this powerful sounding Trinity Amps product.
Features
Our Trinity 18 amplifiers are built using point-to-point wiring and turret board construction for service and reliability. High-quality tubes are selected for maximum tone, performance and reliability.
• Two discrete channels each with 2 inputs – High and Low (Thör has 1 channel)
• Normal Channel has Volume and Tone controls
• TMB/Bright Channel has Master, Gain, Treble, Middle, Bass controls (Thör adds a Presence control)
• Channels can be jumped and mixed for more tonal variation
• Polyester film coupling capacitors are used throughout
The power transformer and output transformer are built to the original Marshall specifications and use vintage grade steel laminations.
The Marshall colour correct gold plexi front panel is painstakingly manufactured on Plexiglas using the original lamination process so it looks authentic and the chassis rear side is silk-screened. Thör panel is brushed aluminum look.
Specifications
Channels: 2
Controls Ch.1: Volume; Tone
Controls Ch.2: Bass; Middle; Treble; Gain; Volume
Power output: 18 Watts
Preamp Tubes: 3-12AX7
Power Tubes: 2 – EL84
Rectifier: EZ81
Bias: Cathode
Choke: no
Speaker: per customer choice
Outputs: 2
Speaker Output: 4, 8, 16 switched
Voltage Support: 110V, 120V 60Hz – 220V, 230V, 240V 50Hz
Weight: Head: 20 lbs., 112 Combo 45 lbs.
Switches: Ch. 2 Boost/Fat
Dimensions: Head: 8" H x 22" W x 8" D
Options included:
Piping: white, silver or gold piping
Tolex: black Mesa wrinkle, black, green, red, purple levant or black elephant
Grill Cloth: grey weave, Marshall black or salt & pepper, Fender silver, Ampeg black; Cane
Handle: strap style or comfortable leather "dog-bone" style
Knobs: choice of black or white "chicken head" style
Other Tolex, grill cloths and hardware are available and priced upon request.
Audio Samples
These clips were generously provided by Lawrence Bethune, Billy The Mountain and Gary Cox.
Once again, Lawrence Bethune played and recorded with the Trinity 18 for over a week and he has provided us with plenty of musical material to share. Listen to some samples below and we think you'll be convinced!
Billy The Mountain is a band with the purpose of bringing the misfortune of others – children in particular – to global attention.
Hailing from the United Kingdom, Gary Cox, of The Gary Cox Band, is a renowned slide guitarist. Gary is playing a Lonestar Strat into the sIII amp through a 1×12″ Greenback and Shure SM57.
Billy Beck - Bethune

Summertime Billy - Bethune

Back To The Billy - Bethune

Rhumba Billy - Bethune

Blue Billy - Bethune

All Night Les - Bethune

Stormy Monday - Bethune

Strat Blue Sunday - Bethune

sIII TMB channel Strat - Bethune

sIII TMB channel Strat - Bethune

sIII TMB channel 335 - Bethune

sIII Normal channel on 10 335 - Bethune

Plexi clip - Billy The Mountain's Nicolai Kehlet

Trinity 18 Plexi-56 Les Paul - jonego

Trinity 18 Plexi - Needham

Billy The Mountain-Walk on Water

Plexi Mk. II - Les Wilkins

sIII Normal, tone 4, vol 4, humbucker - Cox

sIII Normal, tone 4, vol 7, humbucker - Cox

sIII Normal, tone 4, vol 10, humbucker - Cox

sIII Normal, tone 4, vol 10, std - Cox

sIII TMB, bass 5, mid 6, treble 7, vol 3, master vol 7, humbucker - Cox

sIII TMB, bass 5, mid 6, treble 7, vol 7, master vol 7, humbucker - Cox

sIII TMB, bass 5, mid 6, treble 7, vol 10, master vol 10, humbucker - Cox

sIII TMB, bass 5, mid 6, treble 7, vol 10, master vol 10, std - Cox
Video Samples
Thör Hi Sensitivity Demo
Trinity Amps 20 Watt Marshall 2203 Circuit Hi Sensitivity Channel Demo
Thör Lo Sensitivity Demo
Trinity Amps 20 Watt Marshall 2203 Circuit Lo Sensitivity Channel Demo
Tone King Trinity Amplifiers Model SIII Review
Trinity 18 Watt sIII
Pricing Options
Canadian Customers
$ CAD
Click the 'Inquire' below to receive up-to-date Canadian Dollar pricing and shipping.
Trinity 18 Head
$1,260 USD
Trinity Thor Head
$1,360 USD
Trinity 18 1-12 Combo - *No speaker
$1,410 USD
Trinity Thor 1-12 Combo with Classic Lead Speaker
$1,800 USD
Trinity 18 1-12 Combo with Tone Tubby Alnico Red
$1,660 USD
Trinity 18 2-12 Combo - *No speaker
$1,500 USD
Optional Voltage Regulator Module (VRM) - electronic attnenuator
$100 USD
Inquire
Payment Information
Payments can be made through PayPal to sales@trinityamps.com. Payments can also be made using Interac e-Transfer, money order, cashier's or personal check to Trinity Amps Inc.
We accept Canadian credit cards at our shop or by phone.
If you are located outside of Canada and want to make a payment using a VISA or Mastercard, an invoice will be provided using PayPal's credit card service. No PayPal account is required.
Please be sure to send your full shipping address and contact phone number when ordering. If you have any questions, please contact us for more information, visit our web site or forum.
All prices are listed in US dollars. Orders ship from Brighton, Ontario, Canada, applicable taxes not included. Specifications and prices subject to change without notice.
Trinity Amps Inc.
165 Kanata Dr.
Grafton, ON
Canada
K0K 2G0
+1-905-373-6571 Canada, EST
Links