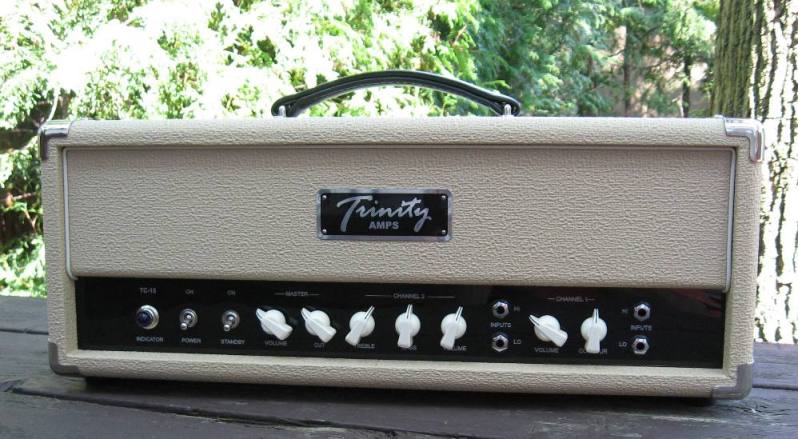 Trinity TC15 Amp – Sold Out
Details
The New Trinity TC15 faithfully reproduces both Matchless and VOX amp tones. The two-channel TC15 is an amp with two very different VOX derived channels. One is sweet and one is tough. One is close to an EF86 AC15 voiced channel while the other is a higher gain AC-30 top boost type preamp.
I love my Trinity Amps. The switchable 15 watt/30 watt Vox style is a workhorse that gets extensive use in the studio and on the road, as well as in my home studio. I keep it close at hand at all times.
An all-tube design, the TC15 features seven tubes to allow for more gain and less "noise." The result is an amplifier with a smooth tone that won't fatigue your ears, even at high volumes!
At low volumes, the amp produces a clean and clear sound. Crank it up and get down and dirty, and you'll find the TC15 can dish out as much as you can handle.
On the one channel, the simple, yet interactive Bass and Treble controls provides endless tonal options – enabling you to produce sparkling clean country sounds or VOX chime. It's plenty loud with lots of headroom and fabulous feedback tone. This amp never strains. Some have commented that it sounds very 'chimey' (we'll take that as a complement!).
The EF86 channel, on the other hand, brings a new world of crunch and munch. That channel has quite a bit of meaty midrange gain but, when you roll back the volume, it cleans up very well. It has a Volume and a 6-position tone contour switch.
If you're looking for an amplifier that sounds full and rich at all volume levels, then the Trinity TC15 is the product for you.
Features
Our Trinity TC15 amplifiers are built using point-to-point wiring using turret board construction for optimal service and reliability. High-quality tubes, coupling capacitors and resistors are selected for maximum tone, performance and reliability. The Trinity Amps power transformer and output transformer are all custom-built and selected for maximum tone, performance and reliability.
Common to both channels is the pull-on master volume, a cut control and rear mounted Crunch Munch toggle switch that changes the overall tone from smooth to gritty tone.
Reverse laser engraved front panel and Silk-screened rear chassis.
Specifications
Channels: 2
Controls Ch.1: Volume; Tone Contour
Controls Ch.2: Bass; Treble, Volume
Controls Common: Master Volume; Cut
Power output: 15 Watts
Preamp Tubes: 1-EF86, 3-12AX7
Power Tubes: 2 – EL84
Rectifier: 5AR4
Bias: Cathode
Choke:  no
Speaker:  per customer choice
Outputs:  2
Speaker Output: 4, 8, 16 switched
Voltage Support: 115 V 60Hz – 240 V 50Hz
Weight:  Head: 20 lbs., 112 Combo 50 lbs.
Switches: Ch. 2 Gain; Crunch/Munch
Dimensions:  Head: 8" H x 22" W x 8" D
Audio Samples
Fender Telecaster

Fender Stratocaster

Les Paul - Clean

Gibson SG - Dirty

Trinity 15, 112 Tone Tubby

Trinity 15, s2 Treble Booster, 112 Tone Tubby

Trinity 15 with Tone Tubby
Pricing Options
Canadian Customers
$ CAD
Click the 'Inquire' below to receive up-to-date Canadian Dollar pricing and shipping.
Trinity TC15 Head
$1,420 USD
Trinity TC15 112 Combo *No Speaker
$1,520 USD
Trinity TC15 112 Combo with Tone Tubby Alnico Red
$1,775 USD
Inquire
Payment Information
Payments can be made through PayPal to sales@trinityamps.com. Payments can also be made using Interac e-Transfer, money order, cashier's or personal check to Trinity Amps Inc.
We accept Canadian credit cards at our shop or by phone.
If you are located outside of Canada and want to make a payment using a VISA or Mastercard, an invoice will be provided using PayPal's credit card service. No PayPal account is required.
Please be sure to send your full shipping address and contact phone number when ordering. If you have any questions, please contact us for more information, visit our web site or forum.
All prices are listed in US dollars. Orders ship from Brighton, Ontario, Canada, applicable taxes not included. Specifications and prices subject to change without notice.
Trinity Amps Inc.
+1-613-438-5854 Canada EST
14656 County Rd. 21
Brighton, ON
Canada
K0K 1H0
Links