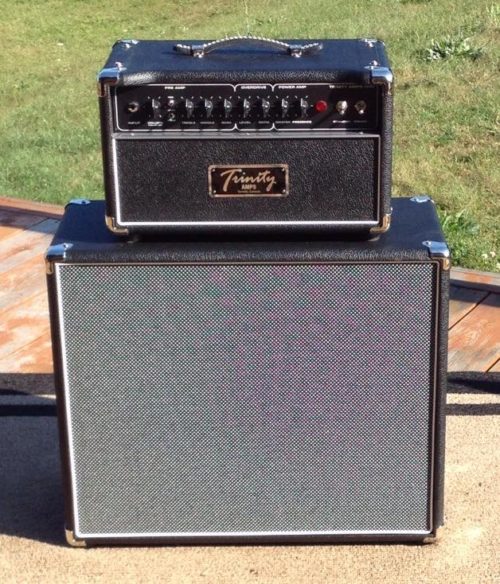 Custom Cabinets
Details
We can build practically any cabinet. These can be modifications of our existing cabinets, copies of vintage cabinets or brand-new designs. From Clear plexiglas 412 to convertible 212 with side ports to a Blue Suede covered OSD head, we can do it all.
Customers typically ask for special sizes, cut-outs, Tolex textures, colors, specific hardwoods, metal corners, special piping, grill cloth, handles etc. We are able to accommodate most requests.
These cabinets would be for the discerning builders who wants to build their own amp and finish it off with a professional looking cabinet. We would price them on an as requested basis.
Click Inquire to get more information.
Prices will include your choice of
Tolex: Red, Green, Black, White, Purple, Cream Levant, Black, Purple, Red Elephant, Mesa Wrinkle, Fender Rough Black, Blonde
Piping: Gold, White , Silver, Black, Green
Handle: Leather Dog-bone, Marshall style strap Handle with chrome end caps; Fender Tweed brown or Black, Flat leather handle
Vent Grill: Silver, Gold, Black
Corners: Black, Chrome
Grill Cloth: Marshall Salt and Pepper, Bluesbreaker, Cane, Basket weave, Gray Weave (Matchless style); Oxblood
Features
Uses 1/2″,5/8″ or 3/4″ Baltic birch multi-layer plywood
Tweed style cabinets use 3/4″ Pine
Finger joints for extremely strong construction. Biscuit joints on head cabinets
Choice of finish and hardware
All mounting hardware for speakers
Speaker jacks on extension cabinets, Rubber feet, Vent mesh where required
Optional Stereo-Mono switch on 212 extension cabinets
Optional Closed Back panel on open back cabinets
Pricing Options
Base Combo Cabinet
$350 USD
Base Head Cabinet
$260 USD
Inquire
Payment Information
Payments can be made through PayPal to sales@trinityamps.com. Payments can also be made using Interac e-Transfer, money order, cashier's or personal check to Trinity Amps Inc.
We accept Canadian credit cards at our shop or by phone.
If you are located outside of Canada and want to make a payment using a VISA or Mastercard, an invoice will be provided using PayPal's credit card service. No PayPal account is required.
Please be sure to send your full shipping address and contact phone number when ordering. If you have any questions, please contact us for more information, visit our web site or forum.
All prices are listed in US dollars. Orders ship from Brighton, Ontario, Canada, applicable taxes not included. Specifications and prices subject to change without notice.
Trinity Amps Inc.
+1-613-438-5854 Canada EST
14656 County Rd. 21
Brighton, ON
Canada
K0K 1H0