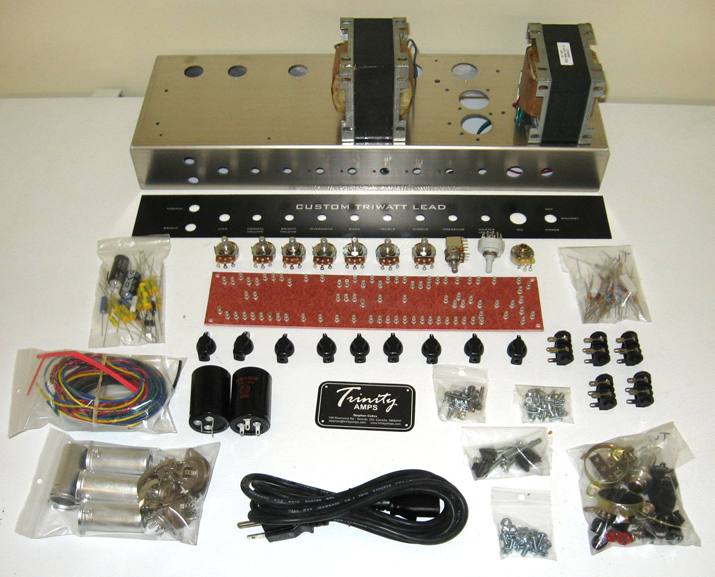 Trinity Triwatt Kit
Details
The TRIWATT is based on the classic design originally pioneered by Dave Reeves of HIWATT fame. This new offering has a preamp inspired from the early "4 Hole" and David Gilmour's of Pink Floyd legend, "3 Hole" versions, where there are two bright channels inputs and a third which links the two channels together for that classic HIWATT sound, reminiscent of The Who, Pink Floyd and many others.
The TRIWATT was designed by Trinity Amps to capture the classic HIWATT sound without the usual classic ear-bleeding volume levels. It is closely based on an early '70s style HIWATT DR, but utilizing either 6V6 or KT66 power tubes for more usable power output. Furthermore, it has the 3-input configuration used by David Gilmour of Pink Floyd, plus an Overdrive stage, as found in early '80's "Biacrown era" HIWATT Lead amps
Key points about the CUSTOM TRIWATT LEAD Design
Designed with HIWATT tone in mind from the onset
Preamp based on the late 60s/early 70s style 103 preamp, with the cathode-follower in front of the Phase Inverter
Three-inputs, for Normal and Bright and Link, as found in Dave Gilmour's early 70's 3-input amps
Second stage can switch between early HIWATT and 80s' higher gain Lead modes with variable Overdrive control
Phase Inverter tube can be 12AT7 as in the earlier Hiwatts or 12AX7 for increased drive to the power tubes
Solid State rectification with fixed bias 22 Watt 6V6 output stage, based closely on the original Hiwatt power amp and power supply
6V6 or KT66 operation with External Bias Switch, Bias Control and Test Points
Features
What differentiates our kits from others is part quality, fit, documentation and support. We supply quality parts. MALLORY 150 caps; 1 Watt CARBON FILM resistors; Metal film where required for low noise, CLIFF and SWITCHCRAFT jacks; ALPHA pots; JJ filter caps; BELTON Micalex tube sockets, Tube retainers & shields; 1/8″ thick GP03 Turret Board with large size KEYSTONE Turrets; CARLING switches; 10A impedance switch; GENERAL CABLE 22 gauge, 600V solid core hook-up wire; pre-twisted heater wire; BELDEN Co-Ax cable; All Mounting hardware, spacers and nuts; Front Black faceplate with White lettering with 3 Inputs; Pre-Cut 0.09″ Aircraft Aluminum Chassis with tapped holes for tube mounting screws and silk screened rear chassis; Detailed 90 page Builders with large 11″ X 17″ sized schematic and colour layout; Real SUPPORT.
Kit Package includes our Custom made Heyboer Transformer set built to the specifications of the original Partridge set used in the early HIWATT 50 watt. One of the best transformers in it's class with a significant tonal impact.
Supported AC Primary voltages 110, 120, 220, 230, 240 50/60 Hz
Reviews
Triwatt Sounds Incredible John B Hunt, Powhatan VA, USA

Hi Stephen,
I wanted to drop you a line to tell you how much I'm enjoying my Triwatt build. I finished building it a couple weekends ago, and have been putting it through its paces daily ever since I first fired it up.

In short, it sounds incredible! It has a LOT of headroom, with punchy cleans, strong mids and treble chime. The bottom end is tight and well defined, and I now understand what you meant about the EQ being "hi-fi" sounding. There are a wide variety of tones to be had by adjusting the EQ knobs. My Triwatt takes pedals like they're part of the amp, and although it can get VERY loud, it is still quite manageable with the Master Volume. I'm currently running it with KT66s, and it is every bit as loud as my JTM45 build, but the Triwatt holds together better than the JTM45 at extreme volumes. The overdrive circuit is a nice addition, and it adds extra dimension and chime to the high end. At low settings (approximately 9 oclock) it blends unbelievably well with my boost and OD pedals. The linked input is a great feature, as I like the ability to blend the levels of each channel for further tone shaping. The amp sounds equally good with humbuckers and single coils, but I'm really enjoying how much more punch and girth my Stratocasters and Telecasters have through the Triwatt. Almost as if I'd stepped up in string gauge…

I'll be gigging it at a couple clubs this weekend, and an outdoor festival gig the following weekend. I can't wait for the opportunity to really open it up and see how it shines on an outdoor stage.

I'd like to thank you for providing such a top quality HiWatt inspired kit, for DIY guys like myself who get almost as much pleasure building amps as playing them. Your customer service and product support are both outstanding, as is your kit design and quality of components. I greatly appreciate all of the effort you've put into this amp design and your attention to detail with the kit. Kudos to you, sir! I wish you much continued success with your company.

Thanks again Stephen and have a great weekend

Triwatt Success David Golladay MI, USA

Just wanted to follow up on my Triwatt build, I had no problems whatsoever and it works like a dream! Your description of the amp on the site and in the (extremely well thought out and written) instruction manual is accurate to a T and yet the amp sounds better than I'd have ever imagined. The versatility it offers is incredible and I haven't even begun experimenting with pedals! If you didn't offer any other amps that I'm dying to build, this would be my last. It sounds that good to me.
I'm more than willing to review Triwatt on other sites that you prefer as well!
Thanks again for your support, product, and dedication to the customer/ builder.
It was an absolute pleasure working with you and I hope to again in the future!

Specifications
Channels: 2: Bright; Normal
Controls Ch.1: Normal Volume
Controls Ch.2: Bright Volume
Shared Controls: Overdrive level/Pull On; Bass; Middle; Treble; Master Volume
Power output: 22 Watts 6L6 / 33 Watts KT66
Preamp Tubes Required: 1-12AT7, 3-12AX7
Power Tubes Required: 2 – 6V6; Optional KT66
Rectifier: Solide state diode
Bias: Fixed
Choke: no
Outputs: 2
Speaker Output: 4, 8, 16 switched
Voltage Support: 115 V 60Hz – 240 V 50Hz
Weight: Head: 25 lbs., 112 Combo 60 lbs.
Switches: High Voltage selector for KT66
Chassis Dimensions: Head: 2.5" H x 20" W x 6.5" D
Pricing Options
Canadian Customers Click 'Inquire' to receive up-to-date CAD pricing and shipping. Include postal code for quote.
$ CAD
We price affordably while managing fluctuating exchange rates with our suppliers. Our CAD best price guarantee accurately reflects our costs.
Trinity Triwatt Kit
$700 USD
Triwatt kit includes all components except tubes, speaker and cabinet.
Footswitch OD Kit
$100 USD
Custom Triwatt Head Cabinet
$270 USD
Add to Cart
To Purchase Items
Select an item using the drop down menu.
Add the item to your shopping cart using the Add to Cart button.This will take you to your shopping cart.
If you wish to purchase additional items, e.g. a transformer set, click Continue Shopping. This will return you to the Trinity Amps site.
Select the next item you wish to purchase using the drop down menu and repeat from Step #2.
When you are finished shopping, wish to check and are viewing your shopping cart, click either PayPal Check out or Check Out (Pay without a PayPal account).
To view your shopping cart click View Cart on the Trinity Amps site and then check out using one of the aforementioned process.
Be sure to include your phone number with your order.
Shipping outside of North America will be adjusted and an email sent with details.
Inquire
Payment Information
Payments can be made through PayPal to sales@trinityamps.com. Payments can also be made using Interac e-Transfer, money order, cashier's or personal check to Trinity Amps Inc.
We accept Canadian credit cards at our shop or by phone.
If you are located outside of Canada and want to make a payment using a VISA or Mastercard, an invoice will be provided using PayPal's credit card service. No PayPal account is required.
Please be sure to send your full shipping address and contact phone number when ordering. If you have any questions, please contact us for more information, visit our web site or forum.
All prices are listed in US dollars. Orders ship from Brighton, Ontario, Canada, applicable taxes not included. Specifications and prices subject to change without notice.
Trinity Amps Inc.
+1-613-438-5854 Canada EST
14656 County Rd. 21
Brighton, ON
Canada
K0K 1H0
Links