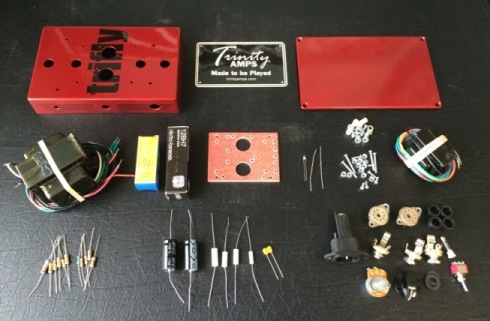 Trinity TriFly Kit
Details
The TriFly is a one-channel input with Volume On-Off control. 12AX7 Preamp tube
12BH7 dual Triode high current Power tube, in self-spit push pull mode , running a little "hot" to deliver more symmetrical clipping
Self Split drive arrangement where the power tube triodes also function as it's own Phase Invertor. The first triode drives the second one through the common cathode connection.
The TriFly uses a Heyboer M-27 steel output transformer with 4 and 8 ohm output jacks. This transformer gives the TriFly an excellent bottom end with a thicker sound and also it had fantastic clean tone at low levels. A Conjunctive filter is incorporated into the output stage to smooth out the overall response.
The eyelet board for the TriFly is a new design approach. We located the tubes in the middle of the chassis with holes through to feed the components directly to the tube pins and we used regular tube sockets. The tubes are aligned so the heater connections are closest to each other. This is a very compact and very quiet design!
Features
What differentiates our kits from others is part quality, fit, documentation and support. Included is all components required to make a working amp: JJ 12AX7 and EH 12BH7; Mallory or ETR caps; CARBON FILM resistors; SWITCHCRAFT jacks, ALPHA volume pot; BELTON Micalex tube sockets; 1/8″ thick GP03 eyelet Board; 22 gauge hook-up Wire; BELDEN Co-Ax cable; All Mounting hardware, spacers and nuts; Powder coated in Red Sparkle, Pre-Cut, Die Cast Aluminum Enclosure with black TriFly motif and control lettering; Enclosure has tapped holes for tube mounting screws; Vintage style control knobs; Assembly guide; large 11″ X 17″ size layout and schematic drawings and REAL Support. The Enclosure design and transformer location protects the amp so that a cabinet is not required.
TriFly amplifiers are built using point-to-point wiring using eyelet board construction for optimal service and reliability. High-quality tubes, coupling capacitors and resistors are selected for maximum tone, performance and reliability. The Trinity Amps power transformer and output transformer are all custom built and selected for maximum tone, performance and reliability.
Also included is our custom made Transformer set made by Heyboer to our exact specifications. No corners were cut on this design!
Specifications
Channels: 1
Controls: Volume
Power output: 1.5 Watt (1 Watt with 12AU7 or 2 Watts with ECC99)
Preamp Tube Included: 1-12AX7
Power Tubes Included: 1 – 12BH7 (self-split configuration)
Rectifier: Solid State Diode
Bias: Cathode
Choke: no
Speaker: no
Speaker Output: 4, 8 Jacks. 16 optional
Switches: none
Voltage Support: 115 V 60Hz – 240 V 50Hz
Weight: Head: 2 lbs., 110 Combo 15 lbs.
Chassis Dimensions: Head: 1.375" H x 7.5" W x 5.75" D
Audio Samples
We tested the TriFly Two Watt Head Amp with:
Guitars:
Shawn Dore Fender Strat with custom wound pickups
Gibson Les Paul
Gretch Chet Atkins Country Gentleman
Fender Tele with ash body and maple fretboard
Stock Fender strat
PRS Mira
Pedals:
Keeley Java Boost
Zaphod Concepts Juice Boost
OCD
Octafuz (Hendrix)
Fuzz Face
Speaker Cabinets:
Celestion Classic Lead 80 in Trinity Amps 112 Side Winder
Celestion Classic Lead 80 212
Marshall 410 Tone Tubby Ceramic
Mesa 412 Celestion Vintage 30s
Vintage Marshall 412 Celestion Greenback
Marshall 412 JCM800 Celestion G12T-75
Fender 212 Alnico Closed back
Shawn Dore said after a week long trial: "The little amp is sounding great! The only 4 or 8 ohm cab I have here is a big big fender bassman 2×15″ cab and it sounds great through that! I think it's a great apartment or bedroom amp!"
Rob Waite said "The true test for me is if a guitar or amp makes me want to keep playing it, or nudges me in a good way toward a certain kind of playing/expression. This amp totally hit that for me. If they start producing these, I will buy one for sure. I loved it."
The TriFly really shone in the tone tests the best example was when using the Ash body Tele, on the neck pick-up. Under the vast majority of situations, this arrangement would be very hard to listen to, yet the TriFly made it sound nice! With the Gretsch Country Gentlemen you could hear the detail of the hollow body in the sound. It was quite glorious!
Change Your Mind

Dirty Politician

I Don't Care

Lately

Put It On Me

Rain

Vodka
Pricing Options
Trinity TriFly Kit
$290 USD
TriFly kit includes tubes and all components except speaker and cabinet.
Flip Top 1x10 Combo Cabinet with 10" Tone Tubby Low Watt Alnico Speaker
$300 USD
Add to Cart
To Purchase Items
Select an item using the drop down menu.
Add the item to your shopping cart using the Add to Cart button.This will take you to your shopping cart.
If you wish to purchase additional items, e.g. a transformer set, click Continue Shopping. This will return you to the Trinity Amps site.
Select the next item you wish to purchase using the drop down menu and repeat from Step #2.
When you are finished shopping, wish to check and are viewing your shopping cart, click either PayPal Check out or Check Out (Pay without a PayPal account).
To view your shopping cart click View Cart on the Trinity Amps site and then check out using one of the aforementioned process.
Be sure to include your phone number with your order.
Shipping outside of North America will be adjusted and an email sent with details.
Inquire
Payment Information
Payments can be made through PayPal to sales@trinityamps.com. Payments can also be made using Interac e-Transfer, money order, cashier's or personal check to Trinity Amps Inc.
We accept Canadian credit cards at our shop or by phone.
If you are located outside of Canada and want to make a payment using a VISA or Mastercard, an invoice will be provided using PayPal's credit card service. No PayPal account is required.
Please be sure to send your full shipping address and contact phone number when ordering. If you have any questions, please contact us for more information, visit our web site or forum.
All prices are listed in US dollars. Orders ship from Brighton, Ontario, Canada, applicable taxes not included. Specifications and prices subject to change without notice.
Trinity Amps Inc.
+1-613-438-5854 Canada EST
14656 County Rd. 21
Brighton, ON
Canada
K0K 1H0
Links