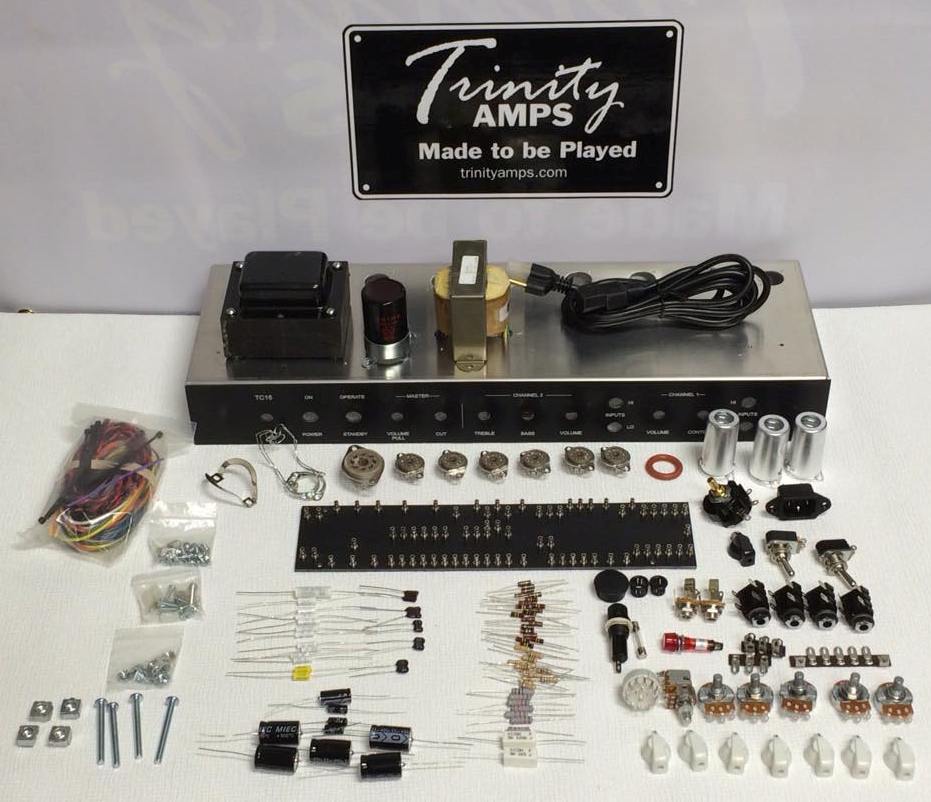 Trinity TC15 Kit
Details
The TC15 is a two channel TC15 hand-made 15 watt amp with two VOX derived channels. It has two very different channels. One is sweet and one is tough. Channel 1 is essentially an EF86 AC15 voiced channel while channel 2 is a high gain AC30 top boost preamp. The TC15 has similarities to a Matchless DC-30 with more tonal options. The amp has enough volume to fill mid-size rooms. Common to both channels is the pull-on master volume and cut control. On the rear there is a 'Crunch' / 'Munch' toggle switch that changes the tone of the entire amp from Smooth to Crunchy and provides players with a whole new tonal palette.
Channel 1 – The EF86 channel brings a new world of crunch and munch. That channel has a wonderful, meaty, midrange gain but, when you roll back the volume, it cleans up very well. It has a Volume and tone contour 6 position switch. The contour switch that takes you from Fat to Thin tone in 6 steps. NOS tube is a must-have here!
Channel 2 – On this channel the original Trinity 15 sound remains with it's high gain and clarity. This is an amplifier with a smooth tone that won't fatigue your ears, even at high volume. At low volumes, it produces a clean and clear sound. The simple, yet interactive Bass and Treble controls provides endless tone options – enabling you to produce sparkling clean country sounds or VOX chime. Channel 2 also has a Hi/Lo gain switch. This switch is subtle, but in use really not so subtle. With a Les Paul, it may mean the difference between being able to get a truly clean tone or not – amazing and VERY useful. With a Strat, it not only cleans up the tone a bit, but also makes the amp sound like it had less headroom – a bit like the "bold/spongy" switch on a Mesa. This is cool because even though there are plenty of clean Strat tones as it is, this gives a different flavor of clean.
Channels can be jumped for even more tone combinations and gain.
Features
What differentiates our kits from others is part quality, fit, documentation and support. Included is all components: MALLORY 150 caps; CARBON COMPOSITION resistors; CLIFF jacks, ALPHA pots, JJ 32/32uf filter cap; Belton Micalex tube sockets; tube retainers & shields; 1/8″ thick GP03 Turret Board with large size KEYSTONE Turrets; CARLING switches; LORLIN impedance switches; All 22 gauge hook-up Wire; Pre-twisted heater wire; BELDEN Co-Ax cable; All Mounting hardware, spacers and nuts; Front faceplate Black/White with 4 Inputs; Chicken head control knobs; Pre-Cut 0.09″ Aircraft Aluminum Chassis with tapped holes for mounting screws and silk screened rear chassis; 100 Page Assembly guide; large 11″ X 17″ size layout and schematic drawings and REAL Support.
The transformers are custom made by Heyboer to our exact specifications. The output transformer has convenient flying leads, multiple secondary windings and the primary side has been wound to 8K and 5K giving up both VOX and Matchless tone!
Supported AC Primary voltages 110, 120, 220, 230, 240 50/60 Hz
The punched and silk-screened chassis is based on standard dimensions that fit most commercially available cabinets including Trinity Amps.
Reviews
I just wanted to email to say the kit was fantastic, the instructions were clear and very informative. I am an electrical engineer and I appreciate the nuance you put into it. I had no issues since start-up (other than a bit of wire cut-off floating around and shorting out the heaters… ) and the electronics are dead silent. It's awesome.
The tone is much different than what I am used to. Much more articulate and responsive than the Fender or Traynor that I typically use. A very distinct high end.
With an overdrive pedal in front of the EF86 channel the sound becomes a little more compressed and very smooth. It's amazing.
Again, I just wanted to thank you and Trinity Amps for this kit, this is certainly one of the most rewarding DIY projects I have done and certainly won't be my last.
Ian Calgary, Canada
Specifications
Channels: 2
Controls Ch.1: Volume; Tone Contour
Controls Ch.2: Bass; Treble, Volume
Controls Common: Master Volume; Cut
Power output: 15 Watts
Preamp Tubes Required: 1-EF86, 3-12AX7
Power Tubes Required: 2 – EL84
Rectifier Required: 5AR4
Bias: Cathode
Choke: no
Outputs: 2
Speaker Output: 4, 8, 16 switched
Voltage Support: 115 V 60Hz – 240 V 50Hz
Weight: Head: 12 lbs.
Switches: Ch. 2 Gain; Crunch/Munch
Chassis Dimensions: Head: 2.5" H x 20" W x 6.5" D
Audio Samples
Fender Baja Telecaster, 2 Eminence Alnico Red Fangs, some added reverb, no effects, compression, or post production. Jumped channels 1-2. J. Driver & Son, Deland, FL
Video Samples
Trinity TC15, Normal Channel, Customer Kit Build
Trinity TC15, EF86 Channel, Customer Kit Build
Pricing Options
Canadian Customers Click 'Inquire' to receive up-to-date CAD pricing and shipping. Include postal code for quote.
$ CAD
We price affordably while managing fluctuating exchange rates with our suppliers. Our CAD best price guarantee accurately reflects our costs.
Trinity TC15 Head Kit Package
$620 USD
TC15 kit includes all components except tubes, and head cabinet.
VRM (Voltage Regulation Module)
$42 USD
Head Cabinet
$250 USD
Add to Cart
To Purchase Items
Select an item using the drop down menu.
Add the item to your shopping cart using the Add to Cart button.This will take you to your shopping cart.
If you wish to purchase additional items, e.g. a transformer set, click Continue Shopping. This will return you to the Trinity Amps site.
Select the next item you wish to purchase using the drop down menu and repeat from Step #2.
When you are finished shopping, wish to check and are viewing your shopping cart, click either PayPal Check out or Check Out (Pay without a PayPal account).
To view your shopping cart click View Cart on the Trinity Amps site and then check out using one of the aforementioned process.
Be sure to include your phone number with your order.
Shipping outside of North America will be adjusted and an email sent with details.
Inquire
Payment Information
Payments can be made through PayPal to sales@trinityamps.com. Payments can also be made using Interac e-Transfer, money order, cashier's or personal check to Trinity Amps Inc.
We accept Canadian credit cards at our shop or by phone.
If you are located outside of Canada and want to make a payment using a VISA or Mastercard, an invoice will be provided using PayPal's credit card service. No PayPal account is required.
Please be sure to send your full shipping address and contact phone number when ordering. If you have any questions, please contact us for more information, visit our web site or forum.
All prices are listed in US dollars. Orders ship from Brighton, Ontario, Canada, applicable taxes not included. Specifications and prices subject to change without notice.
Trinity Amps Inc.
+1-613-438-5854 Canada EST
14656 County Rd. 21
Brighton, ON
Canada
K0K 1H0
Links