Ok...Got this finished this afternoon. Here's how it turned out: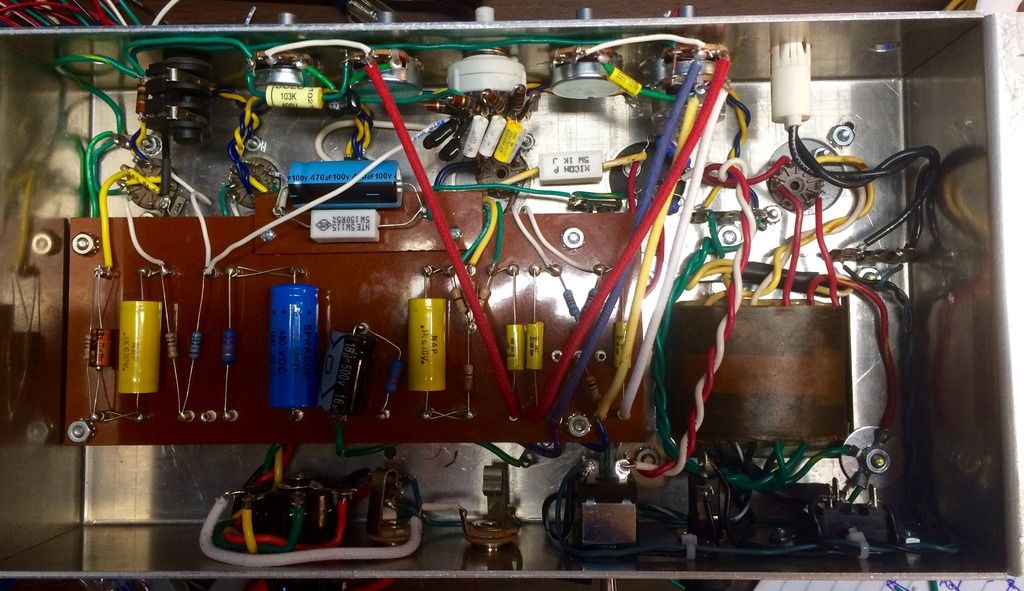 I've got a NOS NEC EF86 in V1, EH 12AX7 as the PI and 2 JJ EL84's and a Tesla EZ81. Classic Tone Transformers. Parts that i scrounged together over the past few years.
I hooked up a 1x12 closed back cab with a green beret, got the tele and it sounds really good. The contour control really shapes the sound, as well as the cut and the single tone knob. Side note...I think I should get some sort of promotion in my soldering skills for wiring up that contour control...that was a real challenge!
Just a couple of issues that I'll have to work out..
1) I either have a bad soldering joint from the input jack to the EF86, or part of the shield is shorting out on the signal wire...no biggie..I can handle that.
2) When the volume is turned up past "9", I pick up a lot of interference. The frequency of the interference changes with the position of the gain control, as well as the cut control. Any trouble shooting tips would be greatly appreciated.
Overall I'm very happy with the amp...sounds great and has that nice Voxy chime.