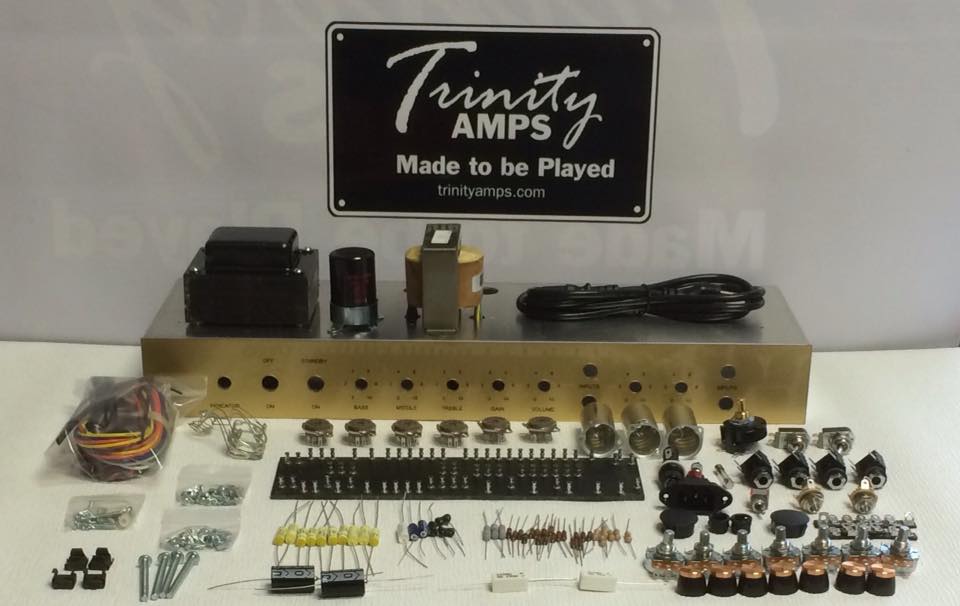 Trinity 18 Kit
Details
We have four two channel versions of the Marshall 18 watt amps that you might want to consider – the sIII, Plexi, TMB and the v6. All 18 watt amps incorporate Treble, Midrange, Bass, Gain [volume] and Volume [master volume]. The second channel (Normal Channel) has Tone and Volume controls.
sIII
The sIII is a medium gain amp and is voiced to do the early plexi/JTM45 sound very nicely. The range of tone is from spanky clean to Marshall grind. You can get a great Clapton Bluesbreaker sound and Hendrix as well. This amp can handle Blues-Rock, Country & Reggae. The Second channel (Normal Channel) is same configuration as the Tremolo channel from the original 18 watt design but without Tremolo.
I have built and played 18 watters before and they are always lacking in something, but yours keeps up with my 50 and 100 watters in feel, clarity, etc. So thank you!! I am very very pleased.
Plexi
The Plexi is voiced to sound period correct for a Marshall Plexi Lead. Screaming guitar lead tones at a much lower volume. The amp can thump and grind with less compressed tone than the other 18 watt variants. The Second Channel (Normal Channel) provides way more overdrive than most 18 watt normal channels while the Plexi channel is capable of the best clean sound we have ever heard come out of an 18 watter. With a pair of greenbacks, you'll be shocked how period correct it sounds. Crank up the gain and you are in crunch tone heaven. The clean boost just adds another dimension, it nails all those old AC-DC tones dead on and has way more gain on tap if needed.
Plexi MkII
Is based on the Plexi Super Lead preamp design with selected 'brown' components. This gets you very close to Eddie van Halen sound. Hot licks but with a very surprising clean tone with gain turned down. This baby can really move some air! Crank up the normal channel and it really gives up the goods! Lots of crunchy to high gain AC/DC tones for days. The TMB side cranked up is great going from clean to mean. Leave the gain low and crank the master and there is quite a lot of headroom with big fat cleans. The fat switch fattens up the TMB side and makes it a bit fuller spectrum of sound. Clip here.
TMB
The TMB amp is a high gain amp that does the 80s sound very nicely. It is intended for musicians who want plenty of grind. It does ZZTop very nicely. It is both responsive and aggressive. The second channel is the Normal channel from the original 18 watt design. This amp does classic rock crunch to metal.
V6
The v6 adds switchable output tubes (EL84 / 6V6) and boost to the sIII, Plexi or TMB. The sound is close to a Fender Deluxe and an 18 watt grafted together. At low volume levels the difference isn't that noticeable between to channels but once you get into loud clean tones and beyond (crunch and full on distortion) you really notice the difference. The EL84s have more highs so the bite and crunch is more apparent with them. Overall, they are a bit clearer than the 6V6 and the EL84 defiantly have the chime thing going on. The 6V6s don't have as much treble but are smoother overall with more bass. When you turn the amp up, link the channels and use 6V6s the tone is really nice. Smooth, good compression but still plenty of clarity.
The inputs can be jumped on all of our amps. If you want to hear some clips of these fabulous amps, go to 18 WATT CLIPS or check out the Clippage section of our forum.
Features
What differentiates our kits from others is part quality, fit, documentation and support. Included are all components; Mallory 150M caps; CARBON COMPOSITION resistors; CLIFF jacks, ALPHA pots, JJ 32/32uf filter cap; Belton Micalex tube sockets; tube retainers & shields; 1/8″ thick GP03 Turret Board with large size KEYSTONE Turrets; CARLING switches; 6A impedance switch; All 22 gauge hook-up Wire; Pre-twisted 20 gauge heater wire; BELDEN Co-Ax cable; All Mounting hardware, spacers and nuts; Hand-Made Plexi Gold Front faceplate with 4 Inputs; MARSHALL control knobs; Pre-Cut 0.09″ Aircraft Aluminum Chassis with tapped holes for mounting screws and silk screened rear chassis; 100 Page Assembly guide; large 11″ X 17″ size layout and schematic drawings and REAL Support.
SOZO Mustard Caps are available as an option in addition to the included Mallory 150M Caps.
The recommended but optional transformers are custom made by Heyboer to the exact specifications of the original Radio Spares set used in the early Marshall 18 watt amps. This output transformer has convenient flying leads, multiple secondary windings and the unused ultralinear taps on the primary side has been wound to 5K. This is an excellent 18 watt transformer.
The vintage looking, small box Plexi-style sized chassis is based on standard dimensions that fit most commercially available cabinets including Trinity Amps. Find more details at Trinity 18 Watt Forum Link.
Specifications
Channels: 2
Controls Ch.1: Volume; Tone
Controls Ch.2: Bass; Middle; Treble; Gain; Volume
Power output: 18 Watts
Preamp Tubes Required: 3-12AX7
Power Tubes Required: 2 – EL84
Rectifier Required: EZ81
Bias: Cathode
Choke: no
Outputs: 2
Speaker Output: 4, 8, 16 switched
Chassis Weight: 12 lbs.
Switches: Ch. 2 Boost; EL84 / 6V6 switch on v6 Model
Chassis Dimensions: Head: 2.5" H x 20" W x 6.5" D
Video Samples
Trinity 18 Classic Rock Demo
Trinity 18 sIII Demo
Trinity 18 sIII Demo
Trinity 18 Plexi
Pricing Options
Trinity 18 Watt Kit
$375 USD
Transformers are not included in kit. We recommend our RS Clone set.
RS Clone Transformer Set
$165 USD
Made by Heyboer to the exact specifications of the original Radio Spares used in early Marshall 18 watt amplifiers.
v6 Option
$30 USD
Head Cabinet
$250 USD
VRM (Voltage Regulation Module)
$40 USD
SOZO Mustard Caps
$35 USD
Add to Cart
To Purchase Items
Select an item using the drop down menu.
Add the item to your shopping cart using the Add to Cart button.This will take you to your shopping cart.
If you wish to purchase additional items, e.g. a transformer set, click Continue Shopping. This will return you to the Trinity Amps site.
Select the next item you wish to purchase using the drop down menu and repeat from Step #2.
When you are finished shopping, wish to check and are viewing your shopping cart, click either PayPal Check out or Check Out (Pay without a PayPal account).
To view your shopping cart click View Cart on the Trinity Amps site and then check out using one of the aforementioned process.
Be sure to include your phone number with your order.
Shipping outside of North America will be adjusted and an email sent with details.
Inquire
Payment Information
Payments can be made through PayPal to sales@trinityamps.com. Payments can also be made using Interac e-Transfer, money order, cashier's or personal check to Trinity Amps Inc.
We accept Canadian credit cards at our shop or by phone.
If you are located outside of Canada and want to make a payment using a VISA or Mastercard, an invoice will be provided using PayPal's credit card service. No PayPal account is required.
Please be sure to send your full shipping address and contact phone number when ordering. If you have any questions, please contact us for more information, visit our web site or forum.
All prices are listed in US dollars. Orders ship from Brighton, Ontario, Canada, applicable taxes not included. Specifications and prices subject to change without notice.
Trinity Amps Inc.
+1-613-438-5854 Canada EST
14656 County Rd. 21
Brighton, ON
Canada
K0K 1H0
Links